No more travel restrictions!
Since March 2019, the COVID-19 pandemic had led to a widespread implementation of lockdown measures and travel restrictions that limited movement between and within countries. However, as the public health crisis 'dies down' a little, the international travel space has begun to re-open – in fact, certain destinations no longer require proof of vaccination nor COVID tests of any type for travellers by air transport.
So?
Nonetheless, it is still important to be alert of the persistent likelihood of viral spread even with the lack of travel restrictions, and still adopt safe hygiene practices as we consider travelling. For instance, we should avoid touching the areas of our face as we handle passports and other necessary documentation; we should wash our hands and sanitize the surfaces we touch regularly; and – most notably – we should go contactless wherever and however possible.
eSIM
To elaborate on the last point, we would like to introduce the idea of an eSIM. An eSIM, or an embedded SIM, is a non-physical SIM card that can allow you to stay connected and possess a data plan without an actual physical card to be fitted into your phone – it can be acquired through QR code!
As travel restrictions are being lifted, eSIMs are worth looking into – not only do they keep you connected to your destination country's network, but they can be acquired without physical interaction with a data plan provider!
*Note*
Travel protocols have changed and evolved since before the pandemic. For instance, many airport processes can be completed on your phone – contactless travel is thus not only limited to the use of eSIMs, and has encompassed several facets of travelling. As a final reminder before you board a flight, make sure you have all of your travel documents, including health information, visas, boarding passes, and so on, saved on your devices! Also, stay aware of any remaining travel restrictions that may be in place.
Staying informed
Finally, make sure you are familiar with the laws(including any remaining travel restrictions) of the country to which you are travelling. Travellers may be required to take a COVID-19 test when they arrive or before they leave, so be prepared.
Check out this link to inform yourself on the general travel restrictions and regulations for the countries you will be traveling to.
Contactless travel with an eSIM
eSIM2FLY – a provider of eSIMs – takes the safety and well-being of our customers very seriously when it comes to travel, which is why we wrote this blog post just for you! In our opinion, the best way to take advantage of a contactless travel experience is to maximize the time you spend planning your journey on your electronic device, while limiting the time you spend having to deal with people and physically swap documentation.
With an eSIM-enabled electronic device, here are some contactless travel tips:
Activate Google or Apple Pay by swiping your phone at a cashier's register.
Use a different digital line to manage your network.
Tether data from your eSIM device to another device or screen.
Connect to the internet wherever your service provider's network can reach
Keep track of vital medical or commercial records on many devices as you travel
Use your smartphone or tablet to order food, groceries, and transportation services.
Instead of using a physical menu, use a QR code scanner!
Keep in mind that roaming charges may be incurred if you use a physical SIM card while on a data plan in a new destination. When your device connects to a network outside of your carrier's plan, you'll be charged roaming fees – a daily premium. Thus, better invest in an eSIM to avoid paying such exorbitant fees!
It is possible to use an eSIM with an Android or iOS device. You're only a tap away from a contactless travel experience, no matter what device you're using. And as travel restrictions lift, it will be more needed than ever.
So, what exactly is an eSIM, you might ask?
The term "eSIM" refers to a SIM card that has been "embedded." An eSIM is a SIM card that is directly soldered into your phone (think of it as a fully digital SIM card). Instead of swapping a chip to access data plans, you can just scan the QR code your provider will send to you by email and you will be good to go.
This means you won't have to look for SIM card vendors while traveling, manage a physical SIM card, manage multiple cards, or waste unnecessary plastic from used cards. It's a more convenient, efficient, time-saving, and cost-effective way to travel.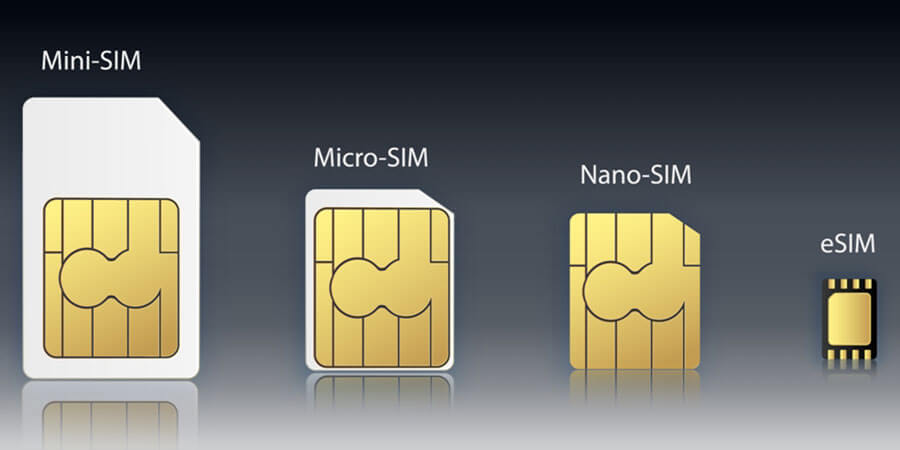 Image taken from the Telecom
An eSIM has the same functionality as a physical SIM, and its functions include, but are not limited to, the following:
Allowing you to use your local data for mobile network.
Allowing you to call and stay connected to other devices while travelling
Scanning, storing, searching, activating, and downloading data to your device
Allowing you to keep your local phone number while still being able to change your phone line for your destination.
Protecting you from being charged for roaming.
Allowing you to use a QR code to activate your eSIM plan.
Most flagship devices manufactured in the last 2-3 years are eSIM capable. For a complete list of eSIM compatible devices, see our list here.
Make sure to install your eSIM before boarding your flight. eSIM2FLY's eSIM support is available for both Android and iOS devices; if you still need assistance, please do not hesitate to email [email protected]!